Free Shipping on orders over $30 (some restrictions apply)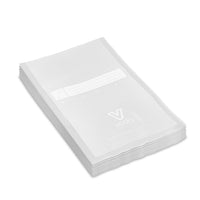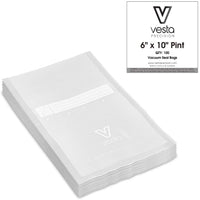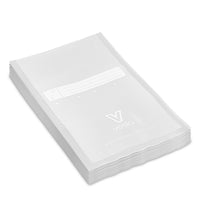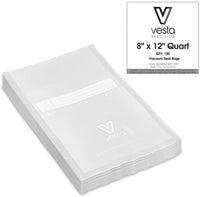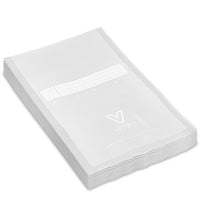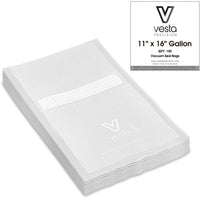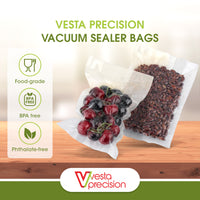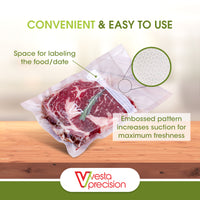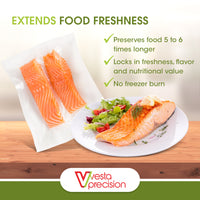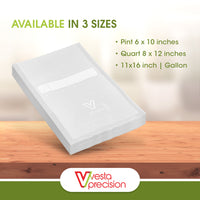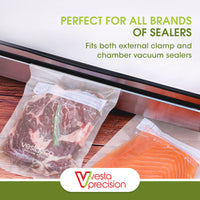 Vesta Precision Vacuum Seal Bags
Product Details
Variant:

11"x16" (Gallon)

SKU:

101113
Regular Price

$22.99

Sale Price

$22.99

Regular Price

$22.99

Unit Price

per
100 commercial grade pre-cut vacuum seal bags saves you time by having three sides sealed to start. Just add your food and vacuum and seal the other end.
FEATURES 
  Embossed micro channel design assures high speed evacuation
  Heavy duty, air and waterproof materials prevent leaks and freezer burn
  Unique combination-layer design makes sealing fast and consistent
VALUE
  Competitively priced 100 count packs 
  Commercial grade bags are durable and pliable for long-term storage against spoilage and freezer burn

  Vesta Precision Bags and Rolls are EASY & CONVENIENT to use! A space is provided on pre-cut bags for marking the type of food and the date of packaging.

SAFE
  Our bags and rolls are made with BPA, Lead, and Phthalate free materials and are perfect for food storage in refrigerators or freezers, reheating in the microwave or boiling water, marinating, and sous vide cooking. The maximum temperature tolerance is 212 degrees Fahrenheit (100 degrees Celsius).

WHICH SIZE WORKS FOR YOU?
The 6x10 (Pint) size works well for portion control, sliced or diced vegetables, cheese bricks, snack packs, and more.
The 8x12 (Quart) size is great for up to 2 pounds of ground meat or 2 chicken breasts.

The 11x16 (Gallon) size is great for larger items like fish, beef or pork ribs, and more at home or in your commercial kitchen.
Vesta Precision vacuum seal bags work well with Vesta Precision machines, including the Vac 'n Seal, Vac 'n Seal Elite, Vac 'n Seal Pro I, and Vac 'n Seal Pro II.