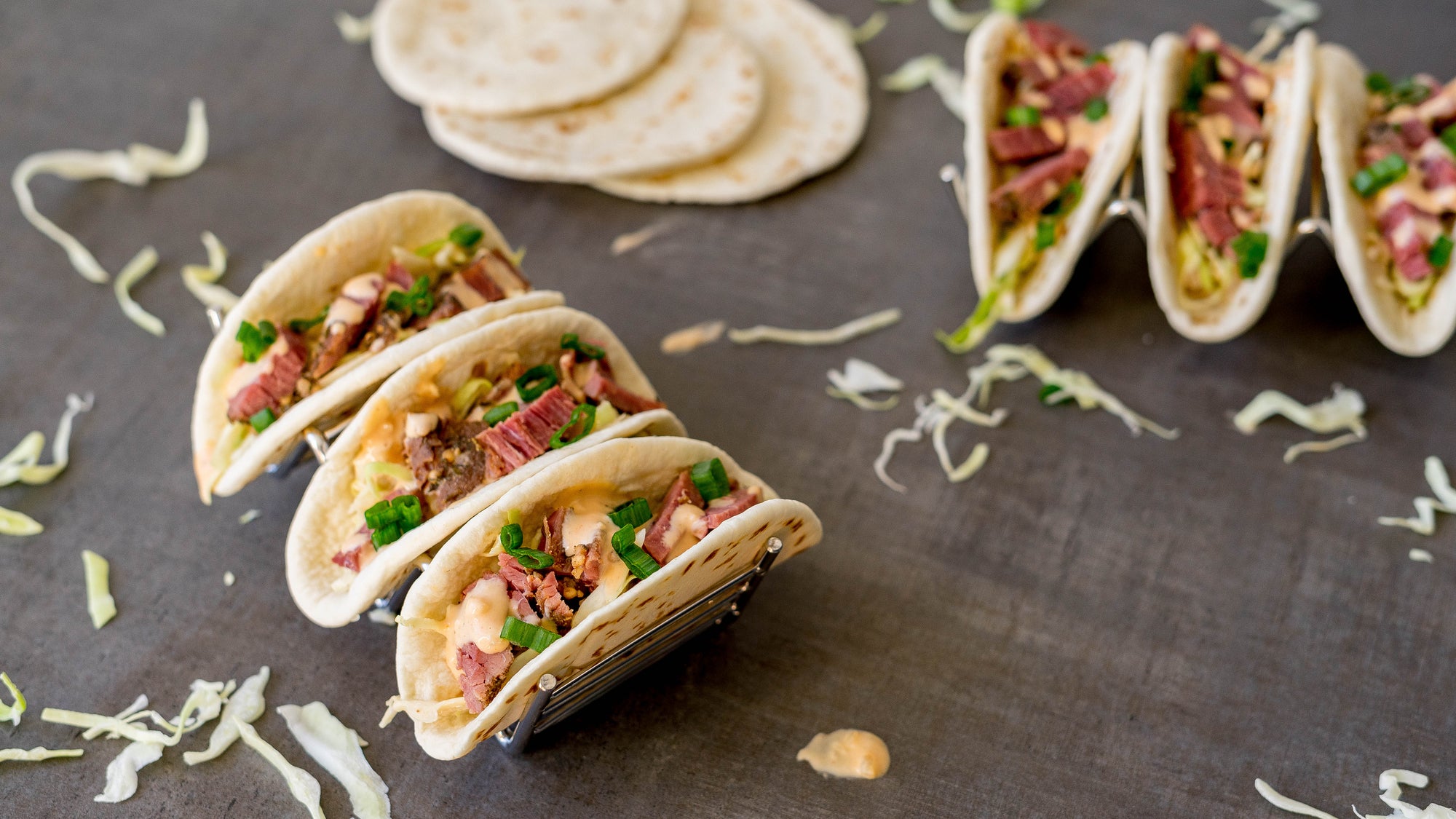 We've got an unusual twist on your typical corned beef and cabbage recipe to celebrate St. Patrick's Day (or for any reason!). This dish takes classic Reuben sandwich ingredients and twists them into taco form!

You'll need plenty of corned beef for this recipe, and if you're planning ahead, we recommend making our Sous Vide Corned Beef from scratch. You can always use store-bought corned beef instead, it just won't be quite as tasty!

To bring in the other elements of a Reuben sandwich, we made a Thousand Island dressing-based sauce for the slaw. The slaw is made from chopped cabbage and a little sauerkraut to get that classic tang you've come to expect from the Irish sandwich.

We recommend using flour tortillas because they're a little closer to the bread of a sandwich, but you can absolutely use corn tortillas if that's your jam.

Serve with your favorite Irish stout and you've got a full-blown St. Patrick's Day Feast on your hands.

Irish Tacos
Serves: 4
Prep Time: 10 mins
Cook Time: 5 mins

Ingredients:

Slaw:
½ (120 mL) cup plain yogurt
2 tbsp Thousand Island dressing
1 tbsp sauerkraut
Salt and pepper to taste
2 cups (200 g) chopped cabbage

Assembly:
12 oz cooked and shredded corned beef
8 6 inch flour tortillas
2 tbsp chopped green onions, for garnish

Preparation:
STEP 1
In a small bowl, mix together the plain yogurt and Thousand Island dressing. Add the sauerkraut and mix. Taste, and season with salt and pepper as desired.

STEP 2
Add cabbage to a medium-sized mixing bowl. Pour sauce over the cabbage and toss to coat.

STEP 3
Heat flour tortillas in a skillet on both sides over medium heat. Remove to a plate.

STEP 4
Add corned beef to a skillet over medium heat and cook until warmed through. Remove from heat.

STEP 5
To assemble tacos, place 1 ½ oz of corned beef on each tortilla and top with slaw as desired. Garnish with chopped green onions and serve.