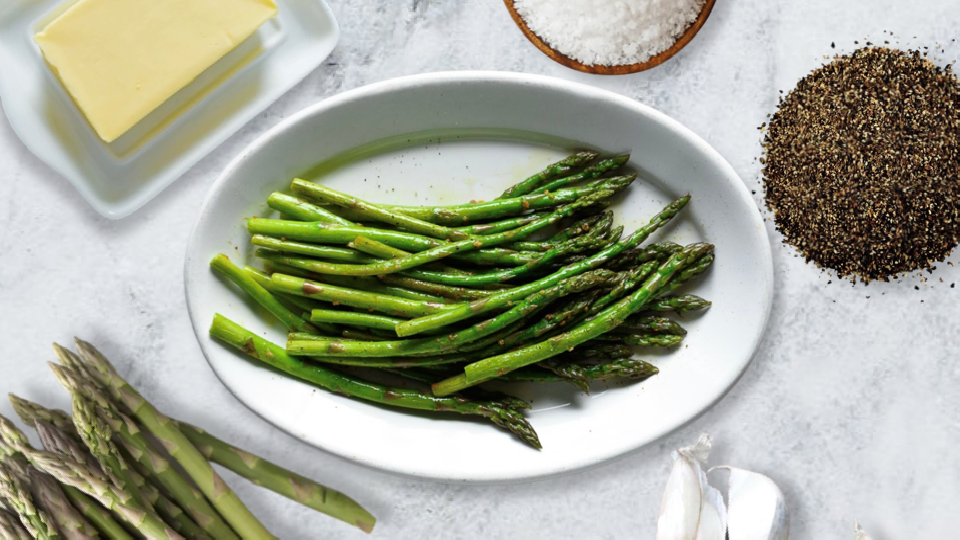 SERVINGS: 4
PREP TIME: 5 minutes
COOK TIME: 10-12 minutes

INGREDIENTS:
1 Bunch Organic Asparagus
2 Tbsp Organic Salted Butter, room temperature
3 Garlic Cloves, Minced or grated
Salt and Pepper to taste
Optional: ¼ Cup Parmesan, Shaved or grated

PREPARATION:
1. Preheat the water bath to 180 degrees F.
2. Trim the ends of the asparagus. 
3. Place asparagus, butter, and garlic into a 1 (1 gallon) vacuum pouch. Use your Vac 'n Seal, Vac 'n Seal Elite, or remove as much air as possible and seal the bag.
4. Carefully place the vacuum-sealed pouch into the water bath for 10-12 minutes.
5. Once the timer is up, take asparagus from the water bath (be careful as the bag will be hot).
6. Place asparagus on a large serving plate, sprinkle desired salt and pepper, and serve!
7: Optional: Sprinkle parmesan over asparagus for a cheesy flavor!