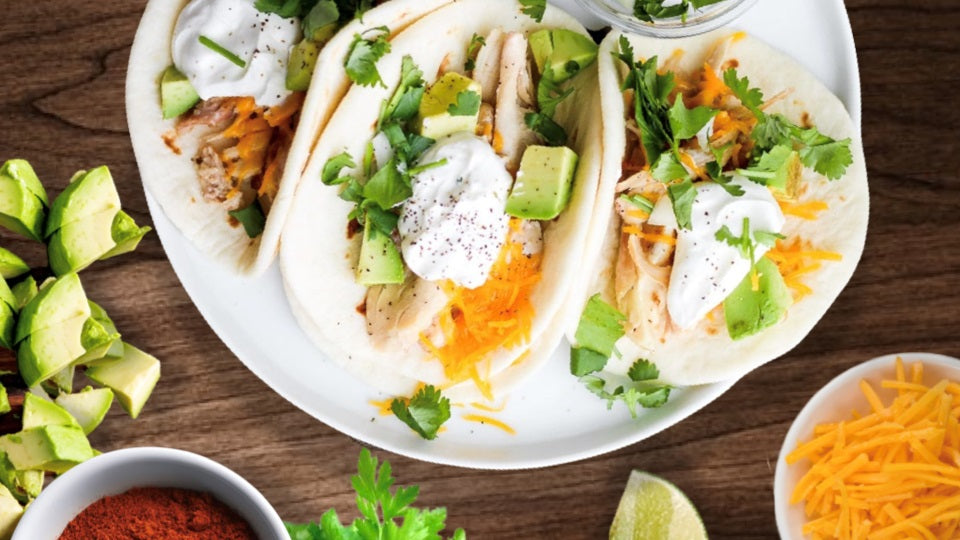 By Michelle Ricciardelli
These chicken soft tacos is so flavorful, fun, and easy! Taco Tuesdays will be a whole new level and something everyone at home will look forward to making and eating!
---
Chicken Soft Tacos
SERVINGS: 6 people
PREP TIME: 10-15 minutes
COOK TIME: 2 hours

INGREDIENTS:
3 Organic Chicken Breasts
2-3 Organic Avocados, chopped
1 Cup Shredded Cheese (Pepperjack, Cheddar, or mix)
2 Garlic Cloves, minced
1 Tbsp Fresh Lime Juice
1 Tsp Onion Powder
1 Tsp Chili Powder
1 Tsp Cumin, ground
Pinch of Salt (or to taste)
Pinch of Black Pepper, ground (or to taste)
10-12 Organic Soft Tortillas
Sour Cream, to serve (to taste)
Fresh Cilantro, for garnish
Optional: Shredded Red Cabbage or Sliced Jalapeños, for added garnish

PREPARATION:
1. Preheat water bath to 165 degrees F.
2. In a bowl, combine garlic, onion powder, chili powder, cumin, salt, black pepper, and season chicken on all sides.
3. Carefully transfer chicken into 1 (1 gallon) vacuum seal pouch. Use your Vac n' Seal, Vac n' Seal Elite, or remove as much air as possible and seal the bag.
4. Submerge the pouch completely in water for 2 hours, or until chicken is fully cooked.
5. Few minutes before chicken is ready, warm tortillas.
6. Remove cooked chicken from water bath (be careful as the bag will be hot).
7. Drain any excess from chicken with fine mesh strainer.
8. Cut chicken into bite sized pieces or shred with two forks.
9. Spoon chicken into warmed tortillas.
10. Top your tacos with chopped fresh avocados, cheese, sour cream, and garnish of choice!