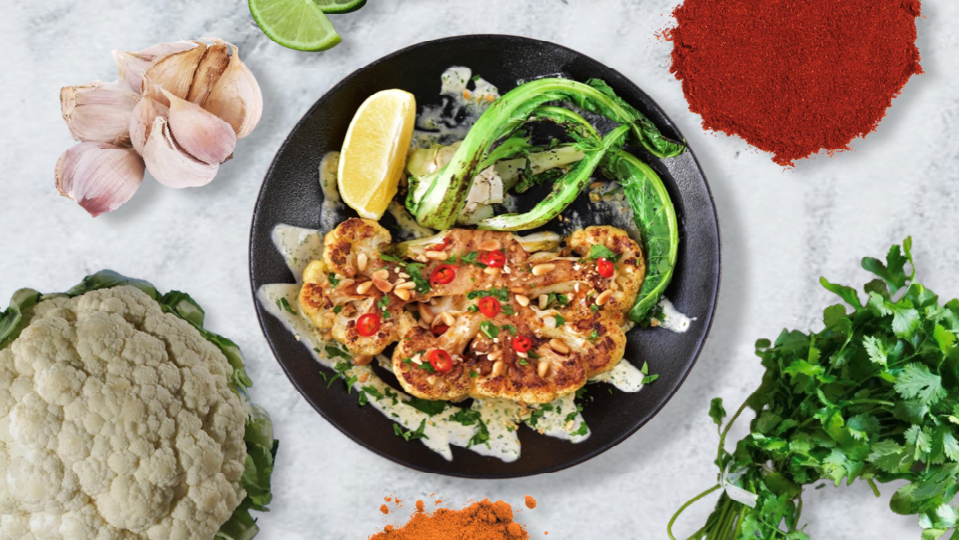 SERVINGS: 4
PREP TIME: 20 minutes
COOK TIME: 1-3 hours

INGREDIENTS:
1 Large Organic Cauliflower, cut into 1 in thick steak cuts
2 Tbsp Extra Virgin Olive Oil
1 Tbsp Fresh Cilantro, Finely Chopped
1 Tsp, Freshly Squeezed Lime Juice
1 Tsp Paprika Powder
1 Tsp Cayenne Pepper Powder
3 Cloves Garlic, Minced
Salt & Ground Black Pepper to taste

Dipping Sauce:
¼ Cup Freshly Squeezed Lemon Juice
2 Cloves Garlic
½ Cup Tahini
1/3 Cup, Filtered Water
¼ Tsp Cayenne Pepper Powder
¼ Tsp Salt
½ Tsp Cumin Powder

PREPARATION:
1. Preheat the water bath to 185 degrees F.
2. Combine all dipping sauce ingredients together in a blender. Blend until smooth (adjust any flavoring to your liking if needed). Place in refrigerator until cauliflower cuts are done cooking.
3. In a small bowl, combine and mix the EVOO, cilantro, paprika, cayenne pepper, lime juice, and minced garlic to make the seasoning.
4. Place a single layer of cauliflower cuts in a 1 or 2 (1 gallon) vacuum pouch(es). Evenly and carefully pour the seasoning sauce onto the cauliflower cuts in pouches. Use your Vac 'n Seal, Vac 'n Seal Elite, Chamber Vac Elite, or remove as much air as possible and seal the bag.
5. Place pouch(es) into the water bath and cook for 1 hour (up to 3 hours to intensify flavors). Once the timer is up, take the vacuum pouch(es) from the water bath (be careful as the bag will be hot).
6. Add a drizzle of EVOO to a pan or skillet and set to Med-High heat.
7. Carefully place your cauliflower cuts in the pan and sear for 1-2 minutes on each side, until golden brown.
8. Plate with a smear of the homemade dipping sauce, garnish as you like, and serve!