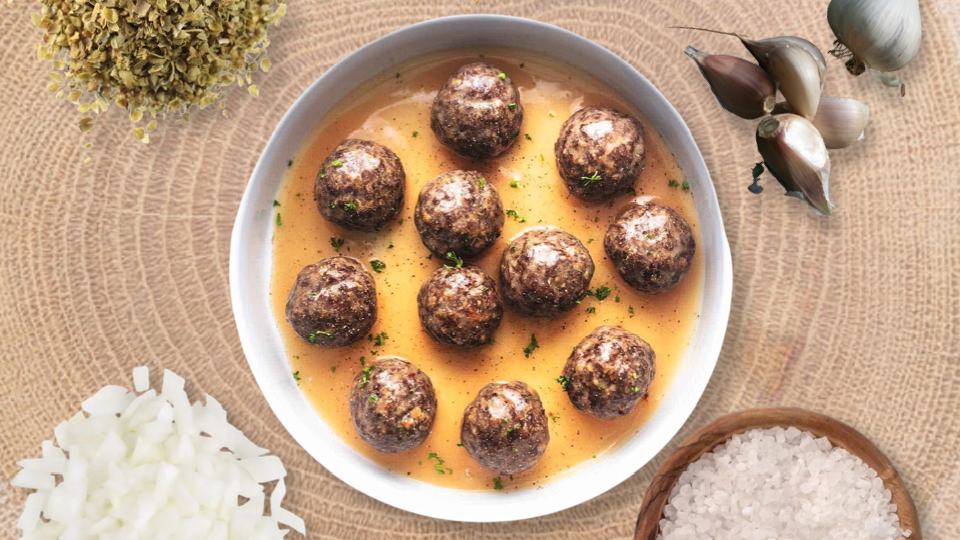 SERVINGS: 4 people
PREP TIME: 30 min
COOK TIME: 60 minutes

INGREDIENTS:
1 Lb. Organic Ground Beef
½ Cup Organic White Onion, Finely Chopped
1 Organic Egg, Lightly Beaten
¼ Cup Dry Breadcrumbs
¼ Cup Parmesan, Grated
1 Garlic Clove, Minced
½ Tsp. Dried Oregano
¼ Cup Organic Whole Milk
½ Tsp. Organic Sea or Celtic Salt
¼ Tsp. Organic Ground Black Pepper

PREPARATION:
1. Line a large backing sheet with parchment paper.
2. Combine all ingredients into large bowl, mix until well blended.
3. Shape beef mixture into 12-16 meatballs and place on baking sheet.
4. Transfer to freezer and freeze for about 1 hour.
5. When ready to cook, heat water bath to 145 degrees F.
6. Place frozen meatballs carefully into 1 (1 gallon) vacuum seal pouch (try to have meatballs not touching). Use your Vac n' Seal, Vac n' Seal Elite, or remove as much air as possible and seal the bag.
7. Carefully and slowly drop the meatballs into the water bath and cook for 1 hour.
8. Once timer goes off, carefully remove pouch from water bath, it will be hot.
9. Heat olive oil in a cast iron skillet (or pan) over med-high heat. Gently place meatballs in the skillet (or pan) and sear until meatballs are browned on all sides.
10. Serve with pasta, pasta sauce, cheese or enjoy on its own!