Sweetheart Strawberry Cheesecake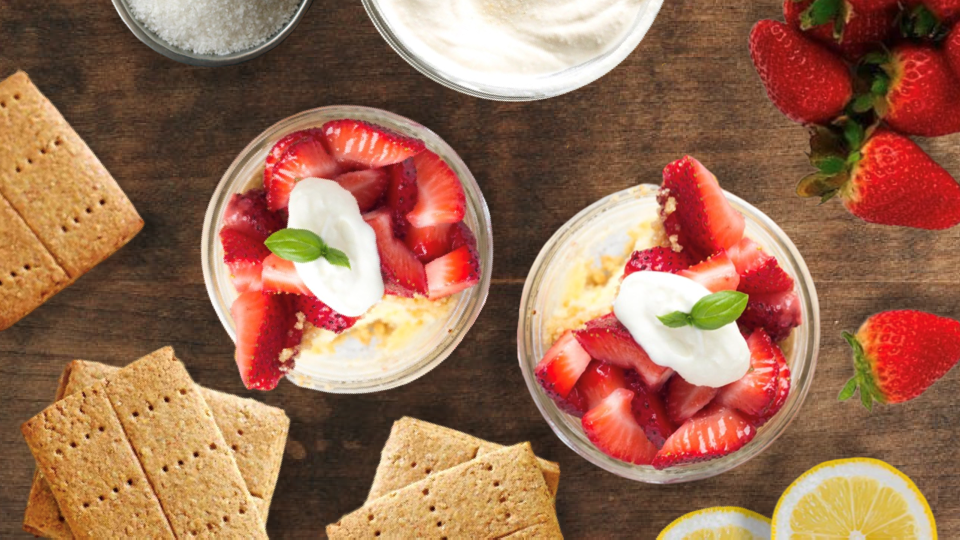 SERVINGS: 6 people
PREP TIME: 20 - 25 minutes
COOK TIME: 1 hour 45 minutes

INGREDIENTS:
2 Cups Organic Strawberries, hulled and quartered
¼ Cup Organic Strawberry Jam
1 Organic Large Egg
½ Cup Granulated Sugar (or granulated monk fruit sweetener)
12 Oz Organic Cream Cheese (at room temperature)
¼ Cup Organic Unsalted Butter, melted
1 Cup Organic Graham Cracker Crumbs
1 Tsp Vanilla Extract
2 Tbsp Lemon Zest
Juice from 1 Lemon
Additional Equipment: 6 jars with lids (8 oz)

PREPARATION:
1. Preheat water bath to 175 degrees F.
2. Place and combine lemon zest, graham cracker crumbs, melted butter, and sugar in bowl. This will be your "crust".
3. Evenly place and press down crust mixture in jars.
4. In your blender or mixer, blend cream cheese, on low speed until completely smooth, add lemon juice, vanilla and sugar. Blend all together then add egg. Continue to mix on low speed until all ingredients blended.
5. Evenly pour cream cheese mixture into jars (on top of your crust mixture). Use spoon to spread evenly if need be.
6. Secure the lids so they are fingertip tight.
7. Use grip tongs to lower the jars in the water bath and cook for 1 hour 45 minutes.
8. When timer is up, carefully remove jars with grip tongs and let jars cool down until at room temperature.
9. Place jars in refrigerator for 45 minutes.
10. While jars are cooling down, in a medium bowl, combine the fresh strawberries and strawberry jam.
11. Take jars from refrigerator, remove lids, evenly spoon strawberry filling on top all jars.
12. Optional: Whip it up with whipping cream and serve!