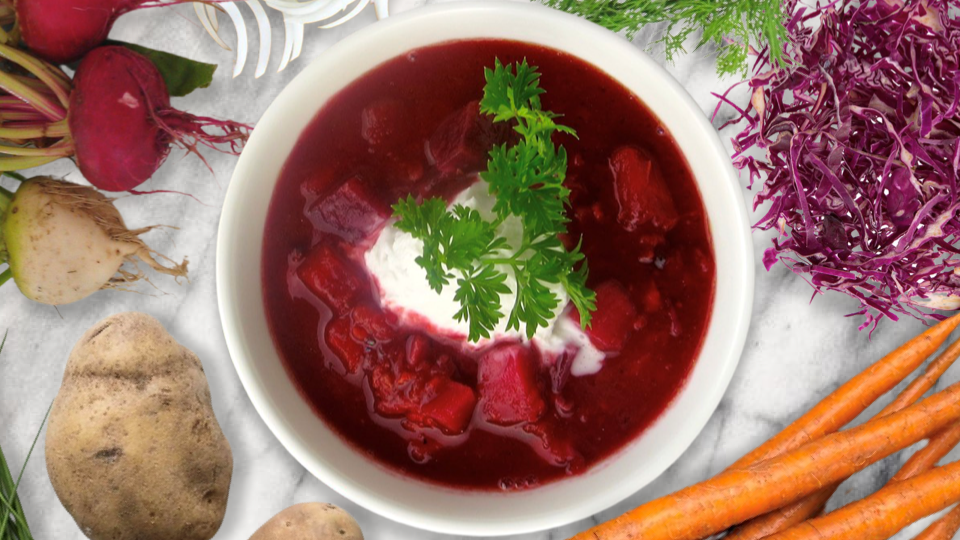 SERVINGS: 6-8 people
PREP TIME: 15-20 minutes
COOK TIME: 1 hour

INGREDIENTS:
1 Organic Russet Potato, peeled, cubed or sliced
4 Organic Beet, peeled, cubed or sliced
3 Organic Carrots, peeled and sliced
1 Organic Yellow or Red Onion, peeled and sliced
½ Head Organic Red Cabbage, finely chopped or sliced
2 ½ Quarts Organic Vegetable Broth
1/3 Cup Fresh Organic Dill, finely chopped
Kosher or Celtic Salt, to taste
Black Ground Pepper, to taste
2 Tbsp Red Wine Vinegar
1 Cup Organic Sour Cream, for Garnish

PREPARATION:
1. Preheat water bath to 180 degrees F.
2. Place beets, onions, potatoes, and carrots in 1 (1 gallon) vacuum seal pouch. Use your Vac 'n Seal, Vertical Vac Elite or remove as much air as possible and seal the pouch with moist setting.
3. Place cabbage in separate vacuum seal pouch.
4. Submerge both pouches in water bath for 1 hour
5. Once timer is up, remove from water bath (be careful as the bags will be hot).
6. Let veggies cool.
7. In a separate large stock pot, pour vegetable broth and bring to a boil. Reduce heat and carefully add all vegetables, vinegar, salt, pepper, and dill.
8. Slowly mix and stir everything in stock pot for few minutes.
9. Place in bowls, and put a dallop of sour cream, sprinkle a dash of dill, and serve!