How to Store Your Thanksgiving Leftovers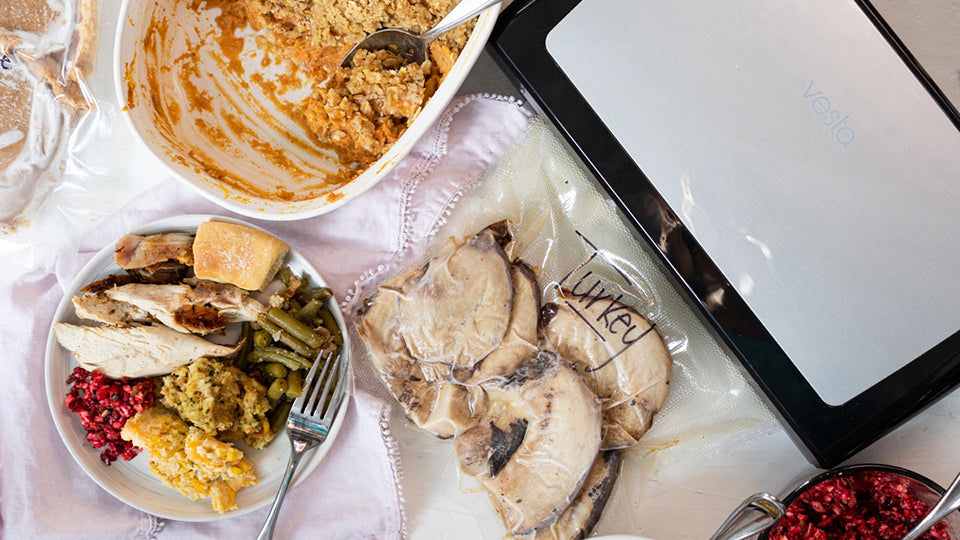 By Heather Bilyeu of Fueling a Southern Soul
Truly, is one of the best parts of Thanksgiving the leftovers?!
I think so! 
There is nothing better than eating leftovers the next day and getting to enjoy the meal all over again.
But if you have an abundance of turkey, or mashed potatoes, or pies that weren't demolished, using your vacuum sealer to store your Thanksgiving leftovers can be really handy!
You could use Vesta Precision 6x10 or 8x12 vacuum pouches to send little to go baggies home with your guests. Individual servings of stuffing, turkey, and pumpkin pie fit perfectly inside the smaller sized bags. 
You can also freeze Thanksgiving leftovers in larger quantities for use later on. These Thanksgiving classics freeze super well:
Turkey

- Enjoy the turkey later on its own or add in a soup, casserole, or a delicious panini! Pro tip: save all the bones and freeze separately to make homemade turkey stock! 

Pies

- just like how you can freeze pies in prep ahead of time, you can freeze the leftovers you haven't eaten yet. Freeze in individual slices for a quick sweet treat whenever the craving hits! 
Rolls - toss your leftovers rolls in a bag and use the chamber vac or manual seal so as not to squish the tender rolls.
Cranberry Sauce - using your chamber vac is the perfect way to keep leftover cranberry sauce. (ps - this would be great as a spread on a turkey panini!)
Ham

- freeze just like a turkey!

Sweet Potato Casserole (or any casserole) - place in the freezer for 30 minutes prior to sealing. Since most casseroles are soft, freezing a little prior helps keep its shape. Also use the chamber vac to seal so you can control a more gentle pressure, ensuring not to squish. Alternatively, you can place in smaller dishes and place the dish inside a bag, and seal just the same.
Using a vacuum sealer to store your leftovers ensures an airtight seal making those leftovers last even longer! Make your Thanksgiving meal last with your Vesta Precision Vacuum sealer this holiday season!