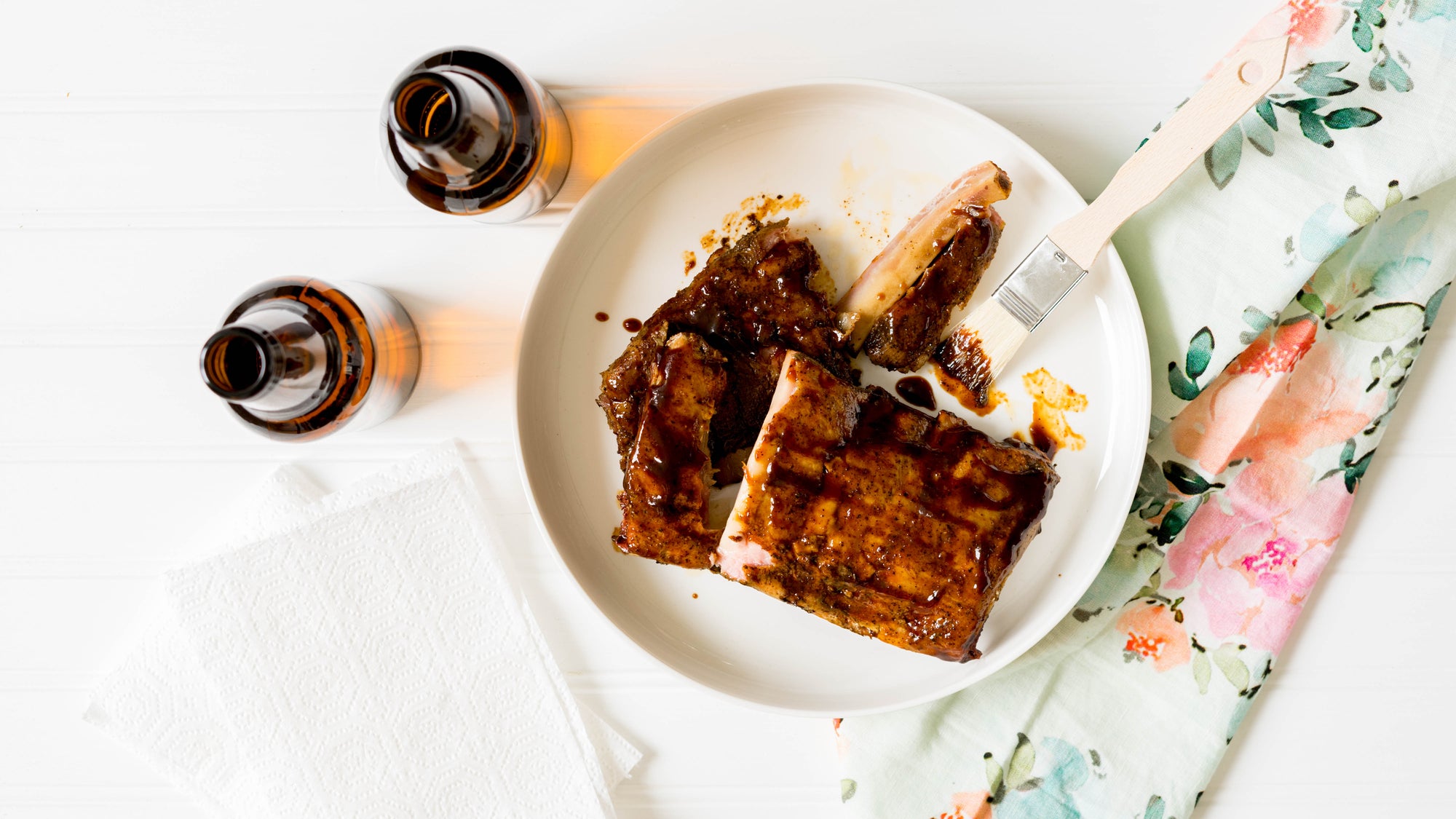 Nothing says summer quite like barbecue, and we're nearly there, folks! I want to make sure you head into the season with a few staple recipes up your sleeve.

Although it's less traditional, sous vide barbecue is amazing. It's a much more efficient way to tenderize meat: you only need a water bath instead of a mass supply of briquettes, and you don't have to be worried about leaving the cooking vessel alone, especially since most barbecue requires such a long cook. Don't shortchange the cooking time on this recipe: I promise the full 36 hours will be worth it when you bite into the most tender ribs you've ever eaten.

Still a bit of a traditionalist? Try using both methods! Instead of broiling the ribs at the end of the recipe, try finishing them on your grill or smoker for a better-than-traditional experience. If you do finish them on the smoker, no need to use the liquid smoke called for in the recipe.

If you like dry ribs, omit the barbecue sauce altogether. Otherwise, a little brush of sauce before broiling and extra for serving is the best way to enjoy these pork ribs.

Serve with your favorite summer sides for a complete meal - might we suggest baked beans?


---


Sous Vide Pork Ribs
Makes 2 Racks
Prep Time: 15 mins
Cook Time: 36 hours

Ingredients:
1/3 cup (109 g) paprika
1/3 cup (73 g) dark brown sugar
1/4 cup (72 g) kosher salt
1 tbsp (6 g) ground mustard
1 tsp (2 g) freshly ground black pepper
2 tbsp (12 g) granulated garlic powder
1 tbsp (6 g) dried oregano
1 tsp (2 g) ground coriander
1 tsp (1 g) red pepper flakes
2 whole racks St. Louis–cut pork ribs
About 3/4 tsp (3ml) liquid smoke
Barbecue sauce (optional)

Preparation:

STEP 1
Preheat water bath to 165 degrees F (74 degrees C).

STEP 2
In a bowl, combine all ingredients except racks of ribs, liquid smoke, and barbecue sauce.

STEP 3
Divide each rack of ribs into three to four portions with three to four ribs each by cutting through the meat in between the ribs. 

STEP 4
Rub ribs generously on all sides with the spice rub mixture.

STEP 5
Place individual portions of rubbed ribs in vacuum bags. Add 4 drops (about 1/8 teaspoon) liquid smoke to each bag. 

STEP 6
Seal the bag, add to water bath, and cook for 36 hours.

STEP 7
When finished cooking, preheat your oven to broil.
Line two rimmed baking sheets with foil.

STEP 8
Remove ribs from bags and place on baking sheets. Brush with barbecue sauce if desired. Place under the broiler for about 30 seconds - 1 minute, then flip, until starting to brown and bubble.
Serve with additional barbecue sauce if desired.