Pork Chops with Mushroom Ragout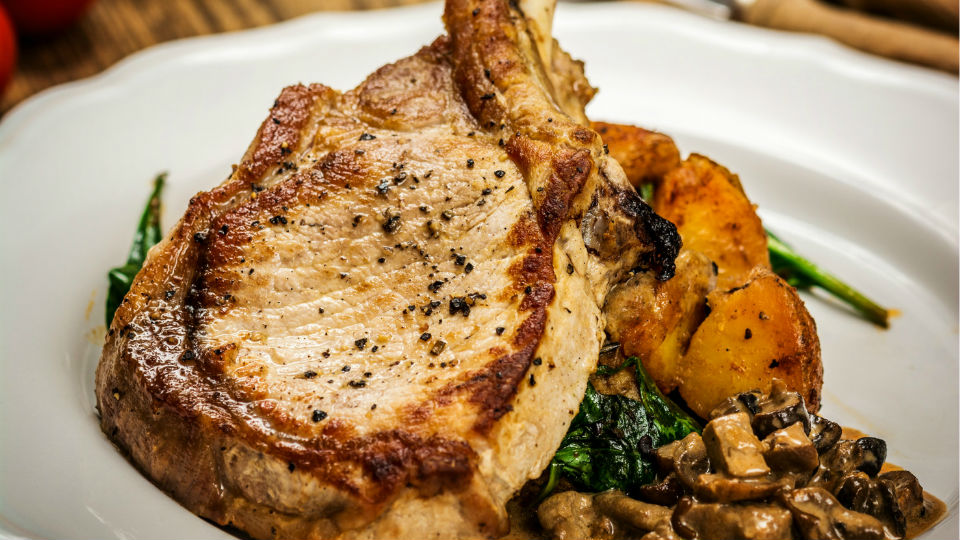 Pork Chops with Mushroom Ragout
COOK TIME:
1 Hour 15 Minutes
INGREDIENTS:
8 pork chops, 1 inch thick
1/4 cup olive oil
Fresh herbs, crushed garlic (optional)

Mushroom Ragout
3 tbsp butter, reserve 1 tbsp to finish sauce
1 tbsp olive oil
1 garlic glove, chopped
1/2 tsp dried marjoram
12 oz Cremini mushrooms, sliced
1/3 cup chicken stock
1/2 cup dry red wine such as Cabernet Sauvignon
3 tbsp whipping cream
Salt and pepper to taste
PREPARATION: 
Preheat water bath to 144°F.
Season eight pork chops with salt and pepper. Transfer pork chops to vacuum seal pouches and add a generous amount of oil. For even more flavor, add seasoning to the pouches – fresh herbs, crushed garlic cloves, etc.
Cook for one hour.
While pork chops cook, prepare the mushroom ragout.
Melt butter and olive oil in a large skillet over medium heat. Add mushrooms and sauté for about 10 minutes until browned. Add chopped garlic and marjoram; sauté 30 seconds longer. Add chicken broth, wine, whipping cream and bring to boil. Cook uncovered until mushrooms are tender and sauce coats mushrooms, about 10 minutes. Add salt, pepper to taste and finish with 1 tablespoon of butter.
When pork chops have cooked, remove from bag and dry all surfaces lightly with a paper towel.
Place 4 chops for Friday's Shepard's pie in sous vide vacuum pouch and refrigerate.
Next, bring a pan up to high heat and add enough oil or butter to coat. Transfer 4 chops to pan and quickly sear on both sides until golden, about 30 seconds per side.
Serve immediately with ragout.