Savory Chicken and Vegetables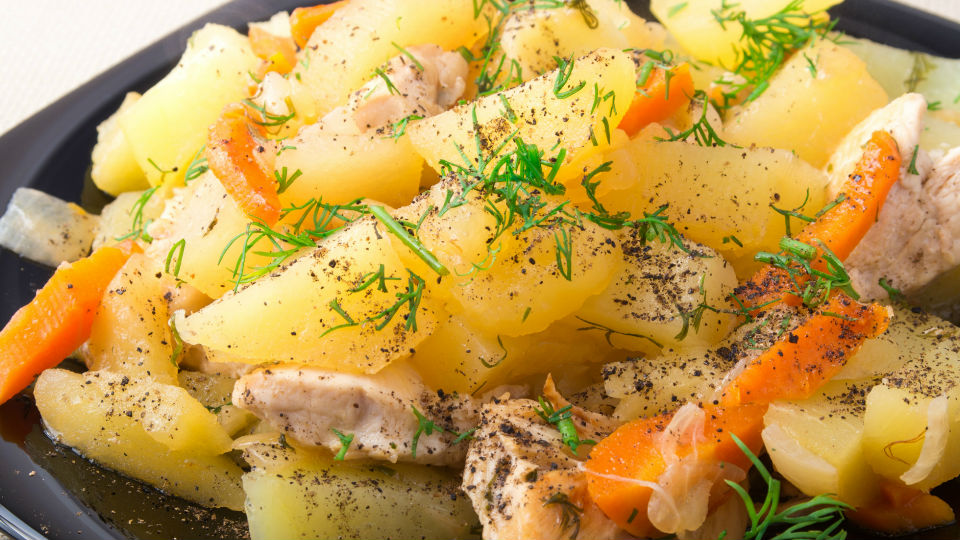 Savory Chicken and Vegetables
INGREDIENTS:
4 pounds boneless, skinless chicken thighs, trimmed and diced into bite size pieces
1 pound carrots, cut into small ½ inch strips
4 medium yellow potatoes, such as Yukon Gold, peeled and cut lengthwise into 1 inch wedges
2 to 3 tablespoons olive oil
½ cup dry white wine
1 small onion, sliced into thin strips
Salt and fresh ground pepper to taste
2 cups reduced-sodium chicken broth
1 (14.5 ounce) can, diced tomatoes with liquid
4 large garlic cloves, minced
1 (15-ounce) canned artichoke hearts, rinsed and quartered
⅓ cup chopped fresh dill
PREPARATION: 
Fill and preheat your water bath to 165°F (73°C).
In a large sauté pan on medium high heat, brown the chicken, carrots and potatoes in olive oil for 5-6 minutes.
Add white wine and cook for an additional 1 minute to release alcohol from the wine.
Season with salt and pepper to taste. 5
Add chicken and vegetable mixture to all remaining ingredients in a large mixing bowl. Stir and then divide equally into two - 1-gallon vacuum pouches and vacuum seal.
Submerge pouches completely into the water bath cook for 3 hours.