Sous Vide Rack of Lamb with Feta Herb Sauce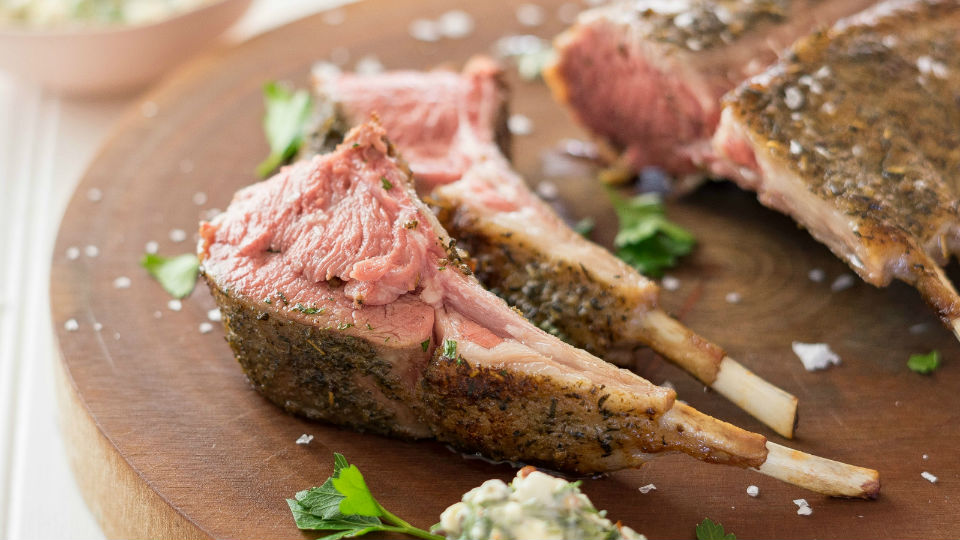 Sous Vide Rack of Lamb with Feta Herb Sauce
COOK TIME:
2 Hours 10 Minutes
INGREDIENTS:
Lamb
1 rack of lamb (approximately 8 chops)
Kosher salt
Dried herb blend (i.e. Italian seasoning)
Flaked sea salt (optional)

Feta Herb Sauce
¼ cup (1 oz) feta cheese
2 tbsp (35 grams) greek yogurt
1 tbsp (4 grams) finely chopped mint
1 tbsp (4 grams) finely chopped parsley
1 tsp (1 gram) finely chopped rosemary
¼ tsp (.5 gram) red pepper flakes
1 tsp (7 grams) honey
PREPARATION: 
Preheat water bath to 125 degrees F (52 degrees C) for rare, 130 degrees F (54 degrees C) for medium-rare,138 degrees F (59 degrees C) for medium, and 145 degrees F (63 degrees C) for medium-well. We recommend medium-rare.
Season the rack of lamb generously with kosher salt and dried herb blend.
Place in vacuum sealable bag and seal. Add to water bath and cook for 2-3 hours.
While the lamb is cooking, prep the sauce. Combine all ingredients in a small bowl and refrigerate until ready to serve.
When done cooking, remove from vacuum sealed bag and pat dry with paper towels.
Preheat your oven's broiler to high. Line a baking sheet with foil. Place lamb on baking sheet and place under broiler. Broil until browned, then flip and broil until the other side is browned.
Lightly sprinkle with flaked sea salt, if desired. Cut along the bones using a sharp chef's knife to create lamb chops.
Serve with feta herb sauce.