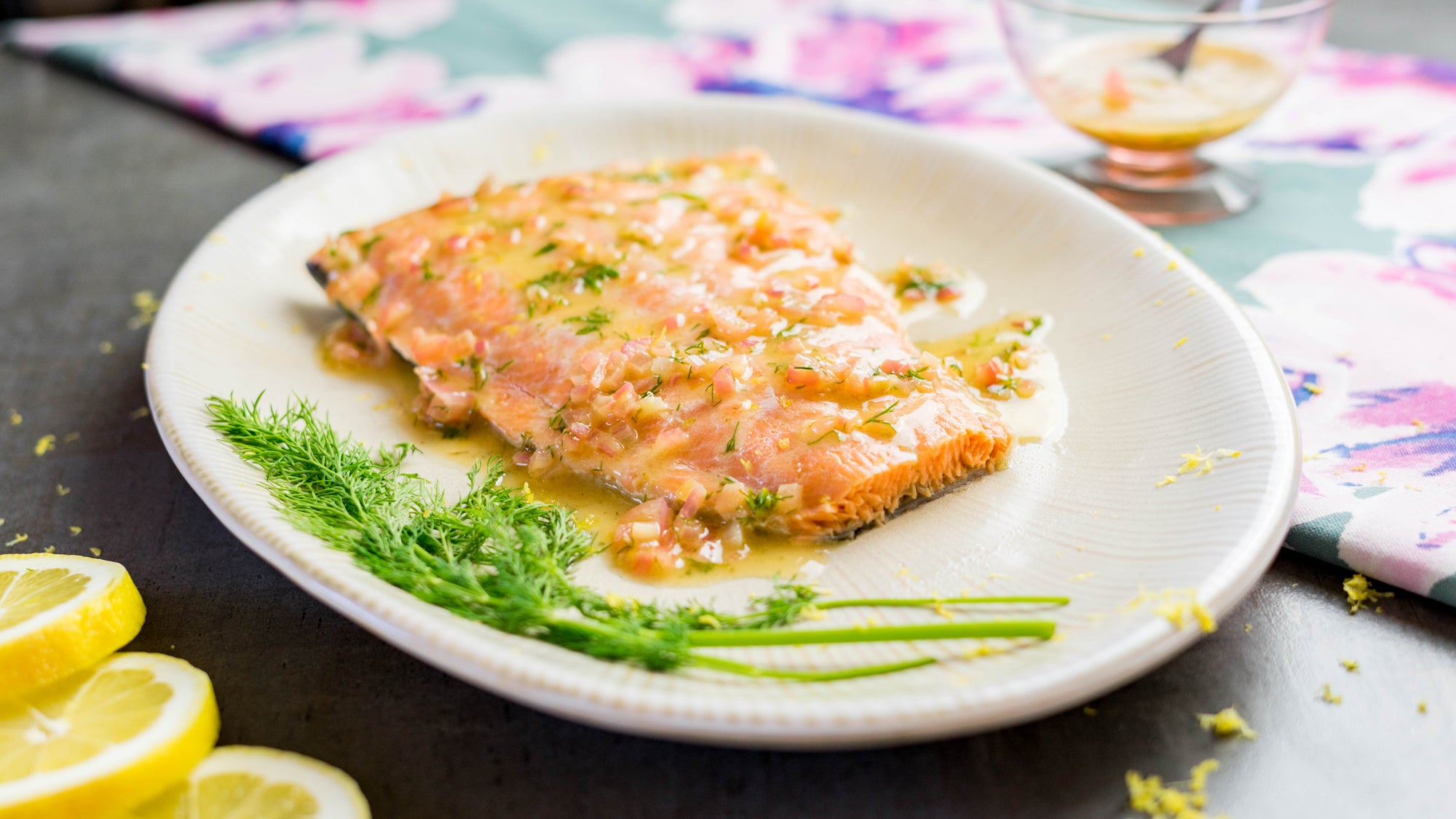 Sous Vide Spring Salmon
SERVES: 6-8
COOK TIME:
45 mins - 1 hour
Salmon
1, 1-1.5 pound (.45-.68 kg) salmon fillet
1.5 tsp (1 g) kosher salt
½ tsp (.5 g) freshly cracked black pepper

Lemon Dill Sauce
1 tsp (5 mL) olive oil
3 tbsp (30 g) minced shallot (about 1 shallot)
½ cup (120 mL) dry white wine
2 tbsp (30 g) lemon juice
¼ cup (½ stick or 2 oz) cold butter
2 tbsp (8 g) chopped fresh dill
Extra sprigs of dill (for garnish)
PREPARATION: 
Preheat water bath to 115 degrees F (46 degrees C) for rare, 120 degrees F (49 degrees C) for medium-rare,125 degrees F (52 degrees C) for medium-well, and 130 degrees F (54 degrees C) for well. We recommend medium-rare.
Season the salmon fillet generously with kosher salt and pepper.
Place in vacuum sealable bag and seal. Add to water bath and cook for 45 minutes - 1 hour.
While the salmon is cooking, prep the sauce. Heat olive oil in a skillet over medium-low heat. Add shallots and cook, stirring occasionally, until fragrant (2-3 minutes). Add the white wine and lemon juice. Let simmer, stirring occasionally, for 1-2 minutes. Reduce heat to low and add the butter 1 tbsp at a time, stirring to melt the butter and thicken the sauce. Once completely incorporated, remove from heat and stir in the chopped dill.
When done cooking, remove from vacuum sealed bag and place on a platter.
Drizzle sauce over the salmon fillet. Garnish with the sprigs of dill if desired and serve.